As per my experience and research, one thing I can say about Verve Coffee Roasters is that it has a decent taste and flavor.
It is a well known coffee brand specifically known for its amazing flavors and commitment to stability.
This company actually sources high-quality beans from different regions around the world, which makes sure that the coffee we drink comes from a diverse range of amazing and delicious coffee farms.
In terms of taste, Verve's Coffee is a delight.
The beans are precisely roasted to highlight their unique flavour which results in a coffee that is both flavorful and balanced.
Although their coffee is quite pricey, the quality and sustainability they offer make their coffee worth it.
Along with delicious coffee, the company also offers a large variety of desserts which taste super delicious along with their coffee.
It's just the perfect combination that makes visiting Verve Coffee cafes really worth your time.
Overall, I would highly recommend their coffee to anyone seeking a truly exceptional taste.
This Verve coffee will definitely enlighten your mood and it is surely a must-try for coffee lovers who appreciate both taste and flavor.
Table of Contents
A Little Background and History of Verve Coffee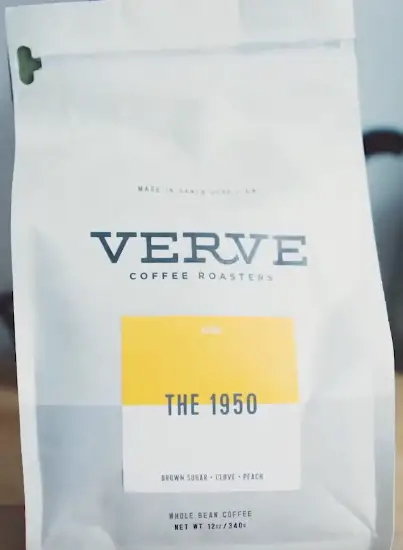 Verve Coffee Roasters was started in 2007 by two friends Ryan O'Donovan and Colby Bars in Santa Cruz, California.
They shared devotion to exceptional coffee experiences.
Verve's precise roasting techniques result in a wide range of various coffee flavors, from fruity to chocolaty; a wide range of spectrum of taste preferences is their consumers.
In addition to their focus on taste, Verve Coffee also does sustainable practices.
They are committed to environment-friendly methods like organic sourcing fair trades of beans whenever possible, which are the qualities of responsible coffee production.
Over the years, Verve Coffee Roasters has gained acclaim for its precise roasting techniques, resulting in a wide range of complex flavorful coffee.
They also earned the prestigious Good Food Award, celebrating their dedication to taste and quality.
In future, they are planning to open several other cafes across United States.
They would gain popularity in no time as Verve specializes in giving out that good and relaxing atmosphere in their cafes and the combinations of their desserts and a wide range of coffee makes it all better.
5 Main features of Verve Coffee Roasters
As per my knowledge, I have listed 5 of the main features of this Verve Coffee as follows:-
No. 1: Outstanding Quality: Verve Coffee Roasters carefully select and roast their beans to perfection, aiming for a balance of unique flavors that highlight the coffee's origin. This approach is responsible for delivering an exceptional tasting experience
No. 2: Sustainable sourcing: They place a strong emphasis on sourcing their beans. They work directly with farmers, ensuring fair wages and environmentally responsible farming practices. This practice is socially responsible and results in fantastic coffee flavors.
No. 3: Good Online Presence: Verve uses technology to connect with its customers. They offer an online store and social media content, making it easy for coffee lovers worldwide to enjoy their products.
No. 4: Beautifully Designed Cafes: Verve cafes are known for their cozy atmosphere. This company combines modern design with sustainability, creating inviting spaces for customers to have coffee.
The real reason for their popularity among today's generation is consistency.
They are able to create that perfect atmosphere in their beautifully designed cafes, and amazing combinations of desserts with a huge variety of flavour of different coffee beans.
No. 5: Special Roasting Techniques: Verve Coffee Roasters use a variety of roasting techniques to bring out the best flavor in each coffee bean, resulting in a wide range of flavors according to the preferences of the consumers.
4 Pros and 4 Cons of Using Verve Coffee Roasters
The 4 good things that I like about this coffee which are as follows.
No. 1: Use of High Quality Beans: Verve Coffee Roasters are known for their quality coffee beans.
They ethically source and roast their beans, ensuring a consistently rich and flavorful coffee.
No. 2: Wide Variety of Flavors: Verve offers a wide range of coffee beans around the world, catering for a dynamic range of flavor preferences.
This surely will keep the coffee lovers interested in testing them often.
No. 3: Sustainability: Verve Coffee Roaster places a strong emphasis on sustainability, from ethical sourcing beans to eco-friendly packaging.
This proves that this coffee brand is giving more importance to responsible coffee production and nature conservation.
No. 4: Community Engagement: Verve Coffee Roasters actively engage in community events like collaborations, hosting workshops and much more.
It's an excellent choice for those who want to be a part of the unique coffee culture.
Now, let's look at some cons about Verve Coffee Roasters that I don't like much.
No. 1: Hefty Price Tag: The fantastic quality of Verve Coffee comes at a premium price.
So for many regular coffee consumers, it may not be the budget-friendly option for daily coffee consumption.
No. 2: Too Much Diversity: The wide variety of beans can be overwhelming for several coffee newbies.
Therefore, choosing the right flavour of coffee for you can be a challenging task without proper guidance and knowledge.
No. 3: Limited Availability: Verve's physical stores are primarily located in California, which may be inconvenient for those outside the region.
Online ordering is an option, but shipping costs can increase the overall price of the coffee.
No. 4: Inconsistent Experience: It has to be kept in mind that Verve's quality control is generally excellent imo.
However, there can be occasional inconsistencies in flavor profiles which can disappoint you if you are a regular consumer.
My Verdict
In the end, I would just like to say that Verve Coffee Roasters is a top-quality coffee brand with a strong commitment to sustainability.
If you value great taste and ethical coffee sourcing and don't mind paying a little bit more for your usual coffee then Verve Coffee Roasters is an excellent choice for you.
However, it may not be the best option if you are on a tight budget or live far from their stores.
In the end, it all depends on your personal choice, taste, preferences and priorities.
Verve Coffee Roasters stands as the symbol of quality and sustainability in the coffee industry.
While it may not be the most accessible choice for everyone, those who prioritize premium coffee experience and ethical consumption will definitely find it worth the investment.
The real reason for their popularity among today's generation is consistency.
They are able to create that perfect atmosphere in their beautifully designed cafes, and amazing combinations of desserts with a huge variety of flavour of different coffee beans.
In the end, I would just like to say that everyone whether a coffee lover or not should visit Verve's cafe and try their coffee at least once in your lifetime.
References:
https://www.roastycoffee.com/verve-coffee-review/
https://www.honestbrandreviews.com/reviews/verve-coffee-review/
https://www.latimes.com/food/dailydish/la-dd-verve-coffee-roasters-weho-20150828-story.html
https://en.wikipedia.org/wiki/Verve_Coffee_Roasters